Relative value for S&P earnings and Baa Corporate bonds are in uncharted territory.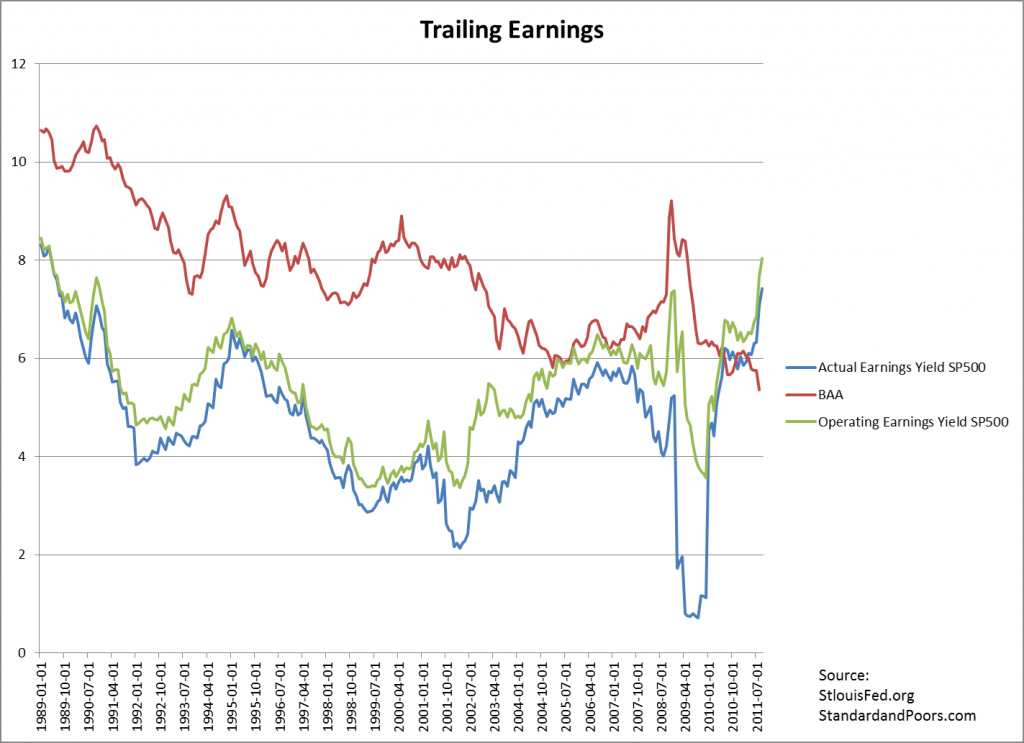 For the first time in the last 22 years the trailing earnings yield on stocks is higher than Baa corporate bond yields.  The implication is expected negative growth for the US economy.
Trailing earnings yields are typically lower than bond yields because, generally, earnings are expected to grow while bond coupons stay static.
If we proxy the future growth of earnings with real gdp growth we would expect the series to be relatively similar over time.  This is an application of the theory championed in the late 90′s by Dr. Edward Yardeni while serving as Chief Economist at Deutsche Morgan Grenfell.
The relative valuation shows some underlying fear in the market.  Equity owners were burned in 2008-2009 when real gdp growth went to negative 5% and earnings plunged.  It seems that the market is pricing about 30% probability of a similar economic outcome; systemic risk causing structural failure in the credit markets.  Are European bank failures likely to cause the same carnage as 2008-09?  Are market participants expecting our domestic banks to face big problems again as well?  The market wants to get paid for the risks in Europe as well as the risks presented by poor policies coming from this administration.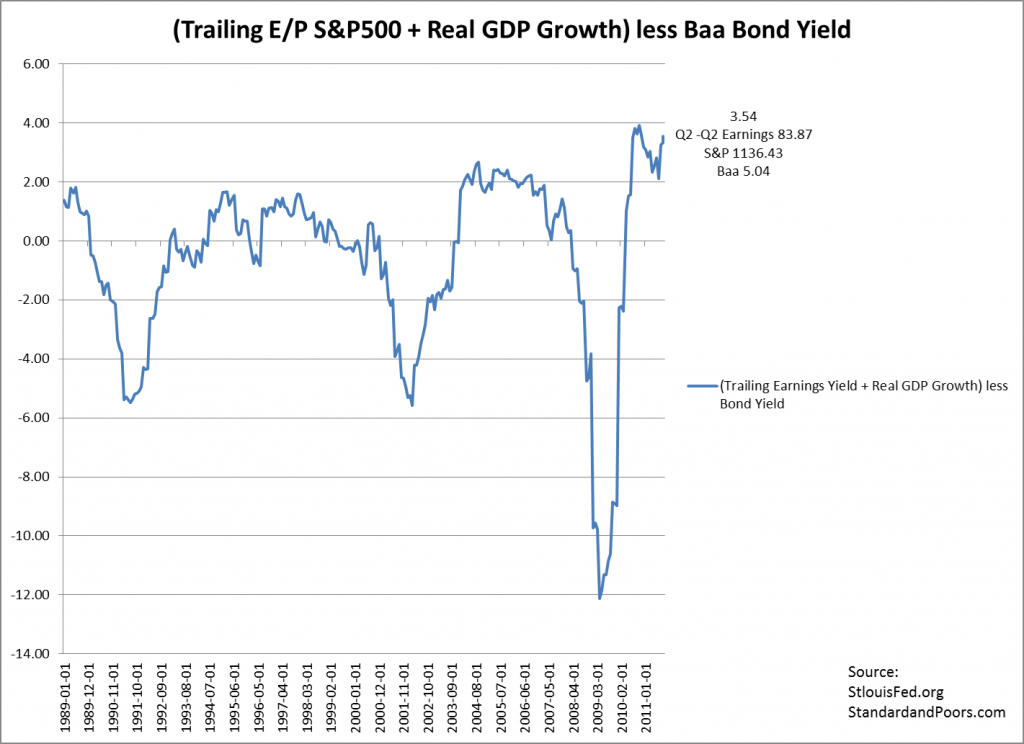 One criticism of this relative value analysis is that it is not predictive, it tells us nothing about the future.  What it does tell us is that based on the most current data points and based on history, stocks offer the most compelling relative buy in point of the last 22 years.  Is this a repeat of 2008-2009 or a very nice buying opportunity in stocks?
We are currently debating this very question.  Stocks present very alluring valuations as the market is very pessimistic about the economy.   Investors are concerned about Europe and not happy about current fiscal and monetary policy.  We continue to watch banks and government policy and highly anticipate the earnings releases of this reporting season.
The non-financial corporate and domestic sectors are not the problem;  it is the liability attached to them by the banks and governments that has everyone worried.  Are banks and governments really at their historic worst right now?  Is it so bad, that they are destroying the innovation and progress of society?  Has progress plateaued?
These are questions that have been asked in the past.  Citizens speak and vote, so do markets.  History tells us that current pessimism can be overcome, and history tell us that stocks are at very compelling levels.