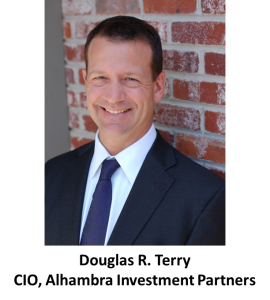 There is one thing I know for certain – markets do not like uncertainty.  If we measure uncertainty by the level of volatility in the market, we are at the 2nd most uncertain point in the last 7 years.
Markets are fairly certain of the following domestic items:
US monetary policy is extremely accommodative
Non-financial corporate balance sheets are very healthy
Profit margins are robust
Equities are attractively priced
Washington DC is in gridlock
Current executive branch ideology does not have widespread support
Liquidity for lower credit quality borrowers is restrictive
Banks are vulnerable to shocks
Housing inventories are elevated and liquidity is poor
Productivity gains from technological innovation are always growing
Inflation is currently benign, but there is potential for large future increases
Unemployment is elevated
Government sector is shrinking
Private sector is growing
Current US public sector debt levels are not ideal but not concerning
Unfunded future obligations are a big concern and must be addressed
International Certainties:
Emerging market economies have desirable factors for growth
Emerging market environments are less transparent
Emerging markets are prone to capital inflows and credit bubbles
Emerging markets have been in a tightening interest rate environment
China does not want a credit bubble/ China can backstop a credit bubble
Japan lends to itself
Middle Eastern countries have oil and high social welfare costs
Developed Europe has an economic union and a sovereign debt issue
Banks are vulnerable to shocks
There are systemic risks to EU sovereign debt
Greece is insolvent
Portugal is probably insolvent
The last certainty is this.  Every down market is blamed on fears of Greek default, debt problems in Italy or Spain and potential banking problems in France and Germany.  Every market rally is because Germany is likely to support further emergency support or the ECB is buying bonds.
So the biggest uncertainty is the European debt crises, right?
Well, no.  The biggest uncertainty is what the politicians are going to do tomorrow concerning the debt crisis.  The market rallies 5-10% every time the ECB buys bonds or Frau Merkel smiles.  So, to me, the market believes this can be readily resolved.  And once resolved, equity markets are undervalued and a global growth environment will emerge.  Understand that, given the current structure of the EU, Germany wants Greece, Portugal, Italy and Spain to take as much of the burden as possible.  I don't blame them, but fear has overtaken the markets.  The overall burden is not insurmountable and we don't need another Dexia on the European continent.
Greece is in a death spiral.  The liklelihood of default is currently over 50% and would be 100% if not for the emergency funds being lent by the EU and IMF.
Private capital has stopped lending the Greek Government money.   The cost of current capital needs are greater than revenue growth, the government is insolvent.
When the cost of financing a current deficit + the cost to refinance the current portion of existing  debt is more than revenue increases, you lose.  Greece is trying to finance a fiscal deficit of 8% this year as well as refinance a portion of its existing debt.  At the same time, gdp/revenue has receded more than 5%.  The books don't balance; there are so few private capital suppliers that 2 year interest rates have risen above 60%.
The EU and IMF are lending Greece emergency funds in order to prevent a default event.  There are systemic problems which arise from default.  Banks that lent money to Greece hold these bonds as assets.  Any write-downs cause immediate loses to equity and cause banks to fall below regulatory capital requirement levels.  Additionally, default is a binary event that makes credit default swaps = 100.  Short exposure to credit default swaps on Lehman Brothers and MBS's is what caused the insolvency and subsequent bailout of AIG.
Let's take a closer look at some headliner countries:

Portugal is also in a poor situation.  Current financing costs are more than revenue increases from gdp growth.
How much are we talking about?  Greece and Portugal are insolvent if forced to use capital markets to fund existing needs.  Greece must fund 16.5% of GDP or $55bln in 2012.  They are currently arguing over $10.75bln for the current tranche of emergency funding.  Portugal must finance 22.3% of gdp in 2012 or about $59bln.  $114bln total for the 2 insolvent countries;  a Bernanke sneeze showers the market with that amount of QE.
EU GDP is roughly 87.5% of the US.  The Fed found it prudent to supplement treasury demand with $600bln in QE2.  If the EU could find the political means, it could take the major uncertainty out of the market with a much smaller initiative than our own Federal Reserve.
Yes, they would want some assurances of future responsibility; the citizens of this country are asking the same of our government.  No doubt the following future unfunded obligations need to be addressed: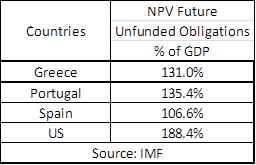 These future obligations border on preposterous in any economic environment, and are explicit evidence of political shamelessness.  These nice perks to aging citizens will likely prove infeasible given the costs of this past decade.
If the EU was one sovereign entity, this would be a manageable liquidity issue.   A politically and economically independent Greece could be quarantined.  Instead, the common currency unit and lack of aligned interests are causing full blown solvency uncertainty.
Either bailout Greece and Portugal or cut them loose; then cap Italian and Spanish rates.  If we achieve IMF expected growth rates, the following would be upper limits on rates to ensure financing does not adversely affect current fiscal positions.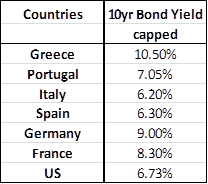 After that, call it a bad trade and abandon ship or become one happy, united family.
I believe the issues in the EU, relative to total European Union GDP, to be minor.  The framework of the economic alliance lacks real alignment of incentives.  The sovereign/political boundaries crisscrossing the supposed economic union are causing the uncertainties.  Europe needs to resolve this and then prevent it from happening again in the future.  This realistically entails 100% commitment and alignment or disbanding.  On a relative scale, today's costs are not overly burdensome.  Proper resolution lifts uncertainty and equity markets will promptly attain higher levels.
Click here to sign up for our free weekly e-newsletter.
For information on Alhambra Investment Partners' money management services and global portfolio approach to capital preservation, Douglas R. Terry is reachable at dterry@alhambrapartners.com