Thinking Things Over              November 19, 2011
Volume I, Number 18:  Better Policies Stem from Seeing the Economy Clearly and Correctly (Part 2 of 3) 
By John L. Chapman, Ph.D.                                                                                                                         Washington, D.C.
Suppose you were overweight and needed to go on a diet.  You set about to gather information on the topic in order to form a plan to achieve your goal.  The following facts were presented to you to achieve your weight reduction aims:
i.    Exercise causes weight-loss via calorie burn.
ii.   Carbohydrate-rich diets are a staple of marathoners.
iii.  Diet Coke has zero calories.
iv.  Smoking can act as an appetite suppressant.
v.   An hour of vigorous walking yields greater calorie burn than an hour of sleeping.
In isolation, each of these facts is true, and you proceed to develop a plan based on them – call it a "model", for a lifestyle geared to weight-control.  You start to (i) run around the neighborhood every morning, (ii) eat nothing but a carbo-rich diet, (iii) drink nothing but Diet Cokes, (iv) take up smoking, and (v) sleep less every night, in order to get your runs in every morning.  Months go by, and not only have you not lost weight, you have gained even more: your weight reduction plan has failed.  What has happened here?
From a complex physiological reality dealing with how human beings function metabolically, you have "abstracted" from the infinite array of interconnected facts that describe the process, developed a workable model for weight loss, and followed its prescription.  But the framework you developed based on a high-level "macro" view of what drives weight loss turned out to be erroneous, because it missed many crucial "micro"-level details about each of these facts, and about how they may interact as parts of a whole.
For example, exercise does matter, but the kind matters at least as much.  Carb-rich diets help marathoners, but have to be moderated and balanced: they can easily lead to weight gain.  Diet sodas can ironically lead to weight gain, have diuretic properties that do not help weight-control, and may be linked to diabetes.  Smoking has several negative ramifications for health, among which are metabolic syndrome that prevents weight loss.  And lastly, lack of sleep is associated with weight gain, again due to impairing metabolism.
Packaged together, a plan that sounds good at a "macro" level may very well turn out to be ineffective due to erroneous logic or internal contradictions at the "micro" level.  The lesson here is that success in any endeavor is thus driven in large part by seeing the matter clearly.
However poor the analogy is, one is reminded of this in analyzing the current state of the economy.  Last week in these columns we asked a simple yet provocative question: what if economists – and oftentimes investors, too — were viewing the world through a faulty lens?  Would that not guarantee errant policy, and bad investment decisions?  Indeed it would, and this is exactly the plight of the modern world: an incorrect understanding of economic reality, caused by an erroneous mental framework that leads to bad modeling, has led to bad policy for decades now.  Today we critique the core assumptions of Keynesian theory, and next week we present an alternative framework for how to think about economic policy, rooted in a correct understanding of reality and economic phenomena – that of the Austrian school.
Key Tenets of the Keynesian Paradigm
Current economic policy in both the U.S. and indeed around the world is dominated by Keynesian thinking, the key operational propositions of which, having developed over time, are as follows:
The economy can operate for a long time – even permanently – in a less-than-full-employment equilibrium.  Only government spending to "plug the gap" can solve this dilemma and return to full employment.
Underemployment equilibrium can arise because investors are, collectively, highly unstable in their behavior, prone to mood swings that lead to concomitant shifts in sentiment and appetite for risk.  Their pessimism can last a long time, and hence government spending can smooth out their arbitrary and haphazard patterns of investment, preventing recurrent booms-and-busts caused by their erratic whims.
Indeed, investment would, ideally, be socialized, that is to say, managed by the central government.  This would prevent the booms-and-busts in the first place, and Keynesian planners additionally have a superior view of what the macro-economy requires in terms of needed spending and resources, to aid in sustaining economic growth.  The corollary to this thesis is that entrepreneurs are, collectively, inferior to government-led and planned investment in a large industrial economy.    
The money supply is best controlled by the government's central bank to use as an active tool in stabilizing the economy. The key feature of correct monetary policy is to do what is needed to ensure that interest rates are kept permanently low.  This should help to dampen the mood swings of private investment.  Further, inflation cannot occur in an economy with idle resources; the presence of idle capacity and unemployed labor will serve to keep prices from rising via competitive forces.
Saving is an anachronism, and generally unhelpful to the process of economic growth.  This is because it involves a "leakage" of funds from the income generation process; a dollar saved is a dollar not spent, and this leads to a decline in aggregate demand, which leads to a decline in profits and incomes, leading to lay-offs.  Saving thus can aid the negative spiral that leads to quasi-permanently idled resources.
There are two corollaries to the idea that saving is often harmful to growth: first, that spending induces growth by increasing aggregate demand; and secondly, that capital funding is superfluous as a parameter that drives growth.  Keynes in fact equated capital with idled resources that were outside the productive process: he sought the "

euthanasia of the rentier

."  In what can only be described as a very crude understanding of the process of capital formation, Keynes held that credit expansion and spending could perform the miracle of "

turning stones into bread

."  If the government wanted to have a bridge built, say, it could spend the money to do so via central-bank created credit, which via the Keynesian "multiplier" process would induce more spending from the laborers and suppliers who received income from the bridge-building project. Multiple rounds of spending would raise incomes all round, and the bridge, once built, could even yield toll revenues that would repay any borrowed funds used to commence the bridge-building.
The six propositions above combine to form Keynesian policy as it is actualized today: large infusions of government spending that become permanent in time, fueled by government-created credit, and eventually, higher taxes.  And, increasingly, Keynesian policy calls for government-directed investment projects and indirect control of industry, at the expense of private sector-led investment and entrepreneurship.
The Problems with Keynes' Framework
Unfortunately, the assertions above are grounded in error, and collectively they have led to bad policy.  Keynesian theory's capstone or central thesis is that the market economy is unstable, and prone to long periods of under-employment – and that there are no natural tendencies toward a return to full employment.   This "fact" of instability and persistent under-employment in markets is the key justification for government interventionism, and is the single biggest reason for the massive growth in spending in the West since the Great Depression.
But in fact, markets, left to their own devices, rapidly adjust to clear away unemployed or idle resources, whether of the human or capital variety.  To say this differently, government policy, rather than being a mitigator of market-based instability and volatility, is a prime causal agent of it.  The irrefutable basis for the market's natural propensity toward stability and full employment is the profit motive itself.  Left to their own devices, markets rapidly clear – and return to full employment levels – thanks to profit-seeking behavior.   But this requires that, say, housing prices not be propped up by deliberate government policies such as mortgage abatement or direct subsidies to underwater home-owners; such government policies, no matter how well-intended, serve to immobilize capital and stunt a reconfiguration of capital and labor resources toward better uses.
Indeed, throughout the entirety of the post-War era, U.S. unemployment has been lower than that of the Eurozone, averaging more than a percentage point lower since 1948 (until recently, that is – the 9%+ persistence in U.S. unemployment over the last 30 months has been the highest since the depression and has been higher than the entire EU during this time).  As the economist Ludwig von Mises points out, on the free market, involuntary unemployment is an impossibility, thanks to the flexibility of the pricing mechanism.
In short, it is government policy itself which leads to persistently unemployed resources. Even the downward stickiness of wages is mainly due, ultimately, to government strictures against re-contracting as, per example, mandated union-wage rates.  Indeed precisely because labor markets have been more flexible in the U.S. than in Europe, particularly after 1970, unemployment has usually been lower here.  And the flip side of lower unemployment has been far better job creation: there are 60 million more jobs in the U.S. now than in 1970, whereas there are only 10 million more in the EU, a comparably-sized economic block (310 and 330 million people, respectively).
The instability of investment that Keynes decried as the causal agent of boom-and-bust is similarly the direct result of government control of the monetary system, money supply, banking, and interest rates.  The deliberate policy of managing interest rates at levels below their natural rates for many years can only lead to errant investment based on a lack of demand fed by real savings.  And of course it is the stop-go monetary policy designed to manages interest rates, alternatively fighting inflation or recession, that feeds boom-and-bust cycles.
Regarding private sector-led entrepreneurship versus government-led socialized investment, Keynes and his disciples have made a seminal error here in misunderstanding the nature of entrepreneurship.   Here we refer to the term in the sense of it being an institutional feature of a market economy, rather than a category of employment.  Entrepreneurship, as practiced by self-employed individuals or in companies, involves making judgments about an uncertain future and risking capital in the pursuit of profit, based on perceived market needs that are currently unmet.  As F.A. Hayek pointed out, capitalism is a discovery process in which knowledge is dispersed across literally billions of economic agents.  Through the coordinating process of the market's pricing system, signals are sent to entrepreneurs concerning consumer demands, resource scarcities, and profit opportunities.  This dispersed knowledge across billions of people cannot be known to any central government, as Keynes and his disciples imply.  And hence any decisions made by central planners concerning the deployment of resources into the future are highly unlikely to avoid waste of resources and a level of immiseration, if not poverty.  This is waste that a market economy's entrepreneurial function would avoid thanks to optimizing the dispersed knowledge in society via the free movement of prices.
Lastly, the vilification of the importance of saving to the process of capital accumulation constitutes perhaps the greatest tragedy of current economic thinking, for it is sowing the seeds of extended hard times in the future.  Keynes was so mesmerized by his training in economics focusing on labor-based trading, by 1936 he had white-washed any importance to the role of capital formation in economic growth.  It is true that, in an economy populated by the butcher, brewer, baker, barber, and cobbler, each can specialize and produce for the market, for immediate consumption.  And, in such a simple economy devoid of capital, a Keynesian spending initiative directed at, say, the baker and cobbler could conceivably work, producing for the immediate consumption and known demand of the butcher, brewer, and barber.  But for any of them to invest in order to expand output, they need prior savings, whether borrowed or out of profits, to make the expenditures for the desired investment.  That is to say, real resources are consumed in making and "forming" the (capital) investment, and these cannot be created ex nihilo by the government, without many erroneous investments being made — investments that can only lead to unemployment and waste of the scarce resources of the economy (not to mention the losses created from drawing resources away from what would have been profitable investments generated from market-based needs).  In other words, the Keynesian model falls down for any real world application beyond a crude and simple economy based on labor, and having few specialists so that market demands are already known.
Shouldn't Keynesian Ideas Work over the Long Run, vis-a-vis More Free Market Policy Approaches?
It is interesting to compare wealth creation in the U.S. with the rest of the world over long periods, and in this case, with countries that have followed explicit Keynesian policies even more than in the U.S.  The best way to do that at the moment is to look at the U.S. and U.K. experience in the last half-century: the U.K. has similar demographic characteristics to the U.S., is untainted by Eurozone problems (at least in a direct-involvement sense), and had had 15 years to recover from World War II by 1960.  And looking at the two countries side-by-side across 50 years, we see the following:
Chart I. Per Capita GDP in U.S., Log Scale, 2010 Dollars, 1960-2010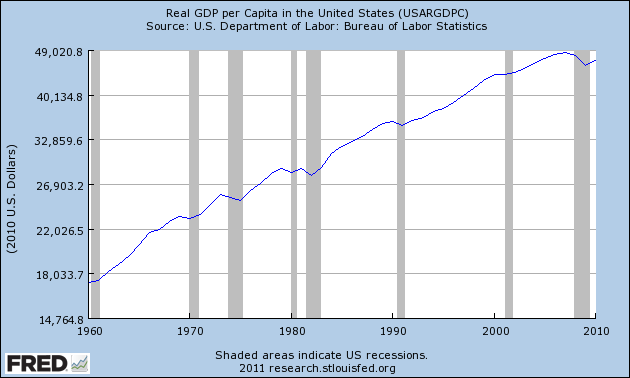 And the equivalent chart for the U.K. is as follows:
Chart II. Per Capita GDP in U.K., Log Scale, 2010 Dollars, 1960-2010
According to the official data presented above, we find something very interesting: living standards in the U.K. have varied very little relative to the U.S. in the last five decades: they were about 76% of U.S. per capita mean figures in 1960, and about 74% of the U.S. in 2010.  But a "normalized" review of this data would be far worse for the Keynesian policies that undergird the British economy.  For in fact, the beginning of this period was marked by massive U.S. loans and Marshall Plan-related aid to the U.K. that was forgiven; and across the decades the U.K. has spent far less on national defense, while being able to import the considerable advances in American technology and management methods.  That is to say, U.S. GDP growth would have occurred as it did even in the total absence of the U.K., whereas the U.K.'s progress is dependent almost solely on the very existence and support of the more free market-oriented policies, and subsequent bounty, flowing from the U.S. economy.  To the degree U.S. politicians import European-style economic policies in the future, the implication from this data is that Europe will suffer pari passu with the installation of Keynesian policies in the U.S.
Economics is not a difficult subject, but it does involve complex chains of reasoning.  The inability of so much of the economics profession to think beyond the confines of the Keynesian artifice is as understandable as it is regrettable.  Understandable, because like heroin to the drug addict, the political class cannot stay away from spending, and Keynes gave them a respectable, if incoherent, justification for this.  But regrettable for all that has been lost now, due to waste of scarce resources, for three generations.  It is left to the critics of Keynes and his modern-era disciples to develop a counter-thesis, grounded in reality, that is understood by the public at large.  Next week we develop this in telling the story of the basic themes of the Austrian school of economics.
For information on Alhambra Investment Partners' money management services and global portfolio approach to capital preservation, John Chapman can be reached at john.chapman@alhambrapartners.com. 
Click here to sign up for our free weekly e-newsletter.