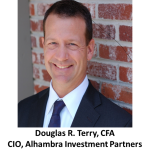 This week has been very quiet, volume is running about 1/3-1/2 of normal.  Some developments of note have come out of Europe and have been affecting markets.  The ECB, in an attempt to stem liquidity issues in the banking system, opened a facility to lend to banks on a 3 year term.  This is similar to the quantitative easing operations by our own Fed.  The caveat is that banks get to choose what they do with funds instead of the central bank deciding which assets to purchase.  My thought is that this will ease end of the year capital considerations for banks.  This has the effect of preventing large end of the year asset sales by banks attempting to raise capital, in general a short term reduction in risk.
What took the market by surprise was that many banks just turned around and parked the funds back at the ECB, similar to the excess reserves of our own domestic banks parked at the Fed.  This, coupled with end of year tax selling, caused the market to sell off yesterday after posting 5 consecutive positive days.  Market participants were probably spooked by the fact that the funds weren't finding their way into private markets.  But the existence of EUR400+bln of liquidity on deposit at the ECB is significant.
Markets are up again today on positive housing data for existing home sales, up 7.3%, and expansionary manufacturing numbers coming out of the Chicago region.
I wish everyone a safe and happy new year.
Click here to sign up for our free weekly e-newsletter.
For information on Alhambra Investment Partners' money management services and global portfolio approach to capital preservation, Douglas R. Terry, CFA is reachable at dterry@alhambrapartners.com