Earnings Outside the Vacuum
Since it has been a slow week in terms of economic data, we can take some time to review corporate earnings season. The current estimate for Q1 2013 operating earnings on the S&P 500 (with 465 companies reporting so far) is for 6.2% Y/Y growth. That is up from -2.44% and -5.10% the previous two quarters. The growth has again buoyed optimism that an inflection may have been reached. I will have more to say once all earnings reports have been filed, but I will note that a good part of that figure is due to the 32.6% Y/Y growth in financial sector earnings.
It is wrong to assume that a bounce in earnings can only be associated with an economic upturn. Such sentiment is only applicable when viewing profit growth in a vacuum; context matters greatly. In fact, we need only revisit the beginnings of the Great Recession to demonstrate.
S&P 500 EPS was a total disaster after the adoption by the Financial Accounting Standards Board of FAS 157. On November 15, 2007, FAS 157, a leftover of the Enron scandal, was at long last adopted in full to ensure firms were including fair market values of assets on their balance sheets. The timing was a perfect storm given the problems in subprime and other structured finance, even when banks got it right.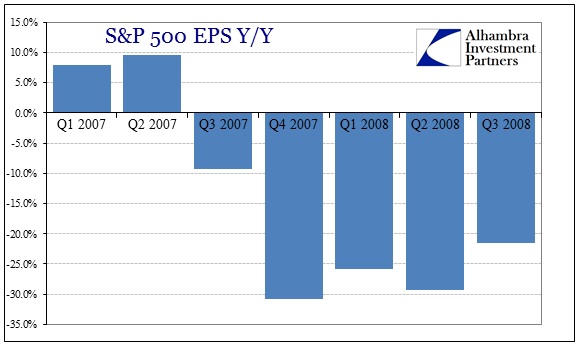 The loss in Q3 2007 was more about General Motors historic unprofitability than Wall Street, but by Q4 2007 the dent in S&P 500 earnings was immense. And this is the picture that people have of the start of the Great Recession.
But setting aside financial firms' ineptitude, accounting standards or not, the earnings picture was not really that bad at all.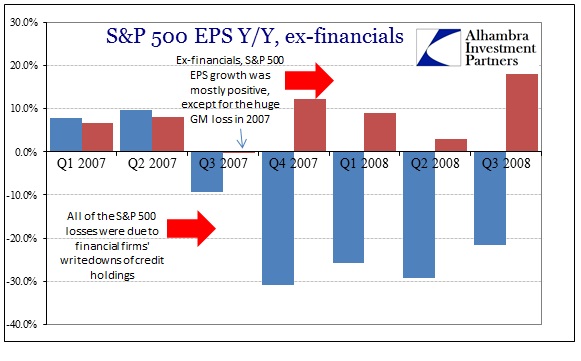 After GM's loss in Q3 2007, earnings growth rebounded nicely into 2008. A large source of earnings strength was due to the energy sector, but nonetheless EPS growth was nowhere near as dire as indicated by EPS including financial losses. In fact, this formed a large part of the basis for economic optimism that took hold in markets and economists in the middle of 2008. In an earlier post I alluded to Bernanke's curious comment in June 2008 that he foresaw the risks of a "substantial downturn" had already "subsided". It was not an idle comment; it was just devoid of proper perspective.
There were other indications of forward economic "momentum" beyond earnings growth, as well. Recessions themselves are not monolithic processes where everything is absolutely uniform in its decay. An economy can very well look as if it is growing but be on a path toward dislocation all the same; sometimes the rot is much deeper and hidden.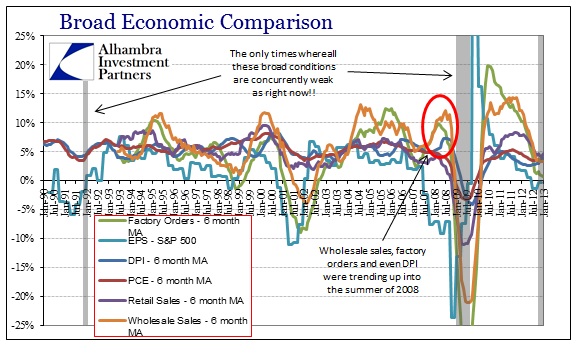 In any case, the economic corrosion will always escape the analyst community. Like economists, stock analysts are uniformly inept at seeing downward inflections (they see positive inflections almost everywhere at all times). In November 2007, just as FAS 157 was about to rock financial balance sheets, analysts' expectations for operating earnings into 2008 looked like this: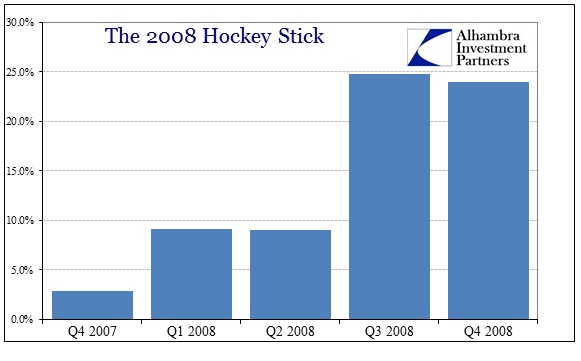 The now familiar hockey stick pattern was around even at the start of the Great Recession. And the reason for its appearance is the same as now – undeserved hope in monetary policy. The Fed in November 2007 was already embarking upon a "stimulative" monetary course, having cut the Fed funds rate by an unusual 50 bp in September 2007, and was making it plain that more was coming. Economists and analysts saw no reason why it would not work as planned.
The 2012 version of the hockey stick was no less impressive. In April 2012, close to the end of Q1 earnings season, analysts were expecting a sharp rebound in corporate fortunes.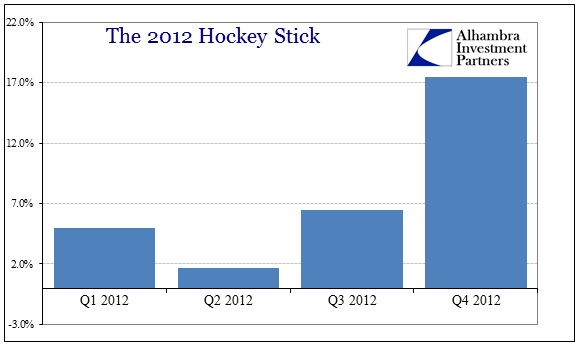 Similar to 2008 (though not quite as sharp in degree), these expectations were badly misplaced.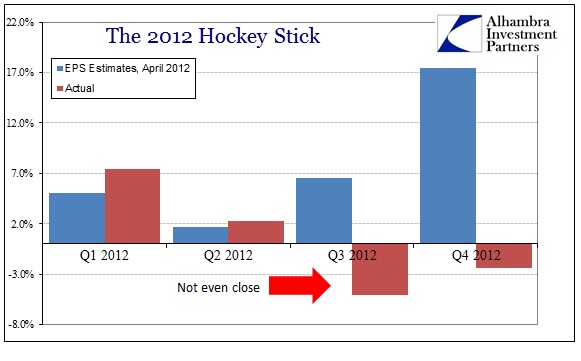 Now as we finish the earnings season for Q1 2013, the hockey stick has again re-appeared, though it is slowly being revised as time passes and guidance largely disappoints.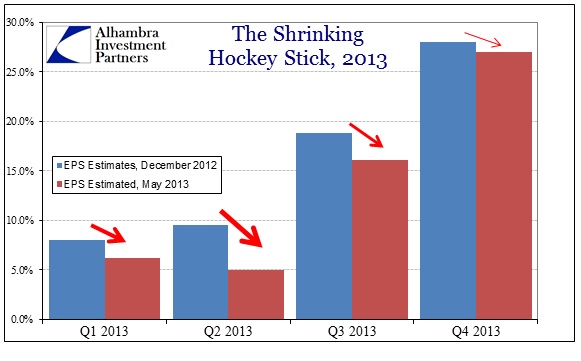 Again, there is more to say about the influence of bank earnings in these figures, particularly Q1, as well as how much share repurchases are propping up EPS growth. Regardless, the overall context and trend still matters when evaluating corporate earnings, particularly from a macro perspective.
Click here to sign up for our free weekly e-newsletter.
"Wealth preservation and accumulation through thoughtful investing."
For information on Alhambra Investment Partners' money management services and global portfolio approach to capital preservation, contact us at: jhudak@alhambrapartners.com or 561-686-6844 . You can also book an appointment for a free, no-obligation consultation using our contact form.