Real Estate Construction May Be Shifting
I had a conversation with Joe Calhoun yesterday regarding an uptick in construction activity in Miami and some other places in the Southeast. He mentioned that some of his contacts had in the past few months begun to see a huge increase in the number of bidsheets for construction work that was ready to break ground – some of it at levels not seen since the middle of the last decade.
The point of our conversation was both to add context to these anecdotes as well as try to make sense of what may fairly be called by some (myself in particular) insanity – Florida is not in any way short of existing dwellings. The problem in Florida, as it is in the other formerly bubble markets (CA, NV, AZ, etc), is not necessarily existing inventory but rather ownership issues and snags surrounding that shadow supply.
Given the massive influx of "investment capital" into REO-to-rent housing, these construction anecdotes make sense. Hedge funds and other investment firms with access to Fed "money" in QE 3 are not really willing to go into existing condo structures, for example, and buy individual units. Too many hassles and unknowns with taking on, for all intents and purposes, partners in the form of existing unit owners. It is far easier, from the hedge fund perspective, to build from scratch without regard to actual market conditions.
As attractive a proposition as it may be in the context of ZIRP, rental investments are extremely price sensitive, owing to thin margins (after taking into account likely rising carrying costs such as taxes and property damage). If the recent and extreme rise in home and construction prices in the Western markets are more than statistical noise (due to the difference between average price and median price as the supply of foreclosure sales dwindled and even halted), that may explain the recent plateau in construction activity in the nationwide data.
The latest figures for May 2013 from the Census Bureau seem to suggest exactly that. Across the country, the rate of activity has slowed dramatically, and in certain areas stopped growing altogether.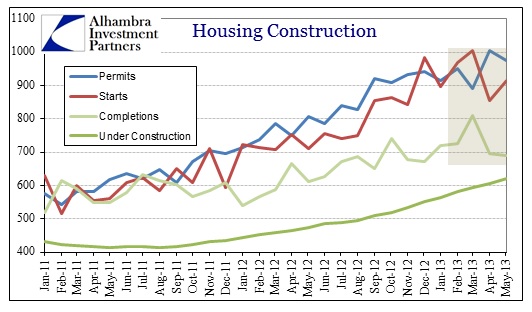 In the multi-family segment, activity has failed to increase largely since QE 3 was announced in September 2012. Judging from price indications, that makes sense since so much of the price increases seen in "hot" markets dates largely to last summer and into fall. By September, if our line of thinking is correct here, price increases may have convinced investment firms to begin thinking of other markets where exuberance has been to date more muted, or at least less extreme.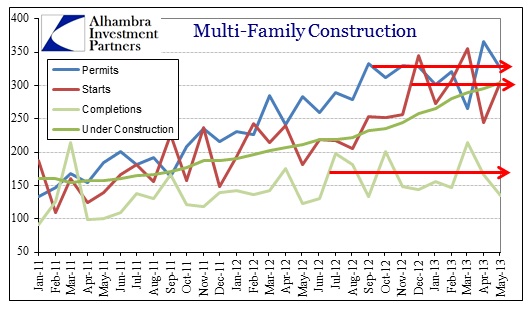 Geographically, there is some evidence for this. While the fastest rising markets, in terms of price, have been in the West and Midwest, it is in those regions where activity seems to have stalled. That is also true of the South, but beginning in March there was a noticeable surge in activity, somewhat confirming the data from Joe's contacts.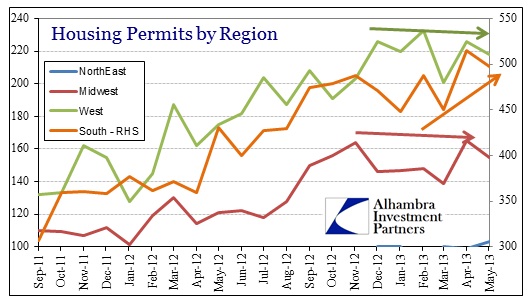 While certainly not conclusive, there is more than a hint of suggestion here that the investment/rental trend may be shifting due to prices. The key for this is largely stagnant incomes in those markets where prices have changed the most. Without income growth, there is no way to maintain profit margins by raising average rents where real estate costs escalate quickly.
As usual, it is prudent to note that most of this data is extremely volatile in nature. Even where some of the Y/Y changes are large, the Census Bureau notes it, "does not have sufficient statistical evidence to conclude that the actual change is different from zero". For example, where it is estimated that May housing starts are a seemingly large 6.8% above April, the 90% confidence interval is +or- 10.1%, meaning that the change from April to May could easily be zero or even significantly negative.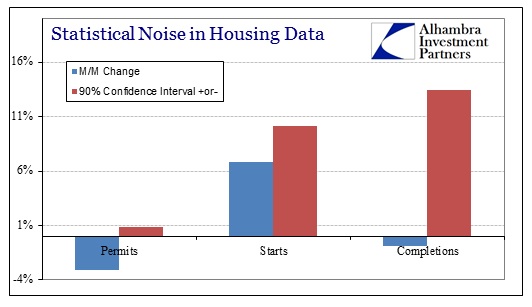 Even the Y/Y change in completions (+12.6%) may in fact be zero or slightly negative (+or- 13.7%).
While not necessarily negative for the housing markets overall, it may mean that activity is fluctuating more than expected for a uniform housing market rebound. Perhaps that should be unsurprising as well given the monetary foundation for it.
Click here to sign up for our free weekly e-newsletter.
"Wealth preservation and accumulation through thoughtful investing."
For information on Alhambra Investment Partners' money management services and global portfolio approach to capital preservation, contact us at: jhudak@alhambrapartners.com or 561-686-6844 . You can also book an appointment for a free, no-obligation consultation using our contact form.