Labor unrest is an expected feature of a malfunctioning economy. The 1970's, for example, were rife with labor problems up and down the economic scale and across industries. Agitation for wage growth was proportional and directly attributable to the public's perceived ability to maintain some standard of living. The Great Inflation threatened to leave a good deal of the populace "behind" as dollar devaluation at least fit the textbook, official definition of "inflation".
It would be a stretch to say that labor difficulties in 2013 are anywhere near as widespread, but the minimum wage debate indicates more than a trivial dissatisfaction with the current economy. Despite assurances that all is well, or will be well any minute now, the most vulnerable workers (at least those in the official labor force) demonstrate otherwise. Their problem is not the minimum wage offered in lower wrung retail jobs, but rather their wrongful and continued appeal to a government solution.
Aside from that, the minimum wage flare is contradictory to the idea inflation is unproblematic. It's one thing to be lacking opportunities for advancement, it's quite another to be unhappy with any opportunity where it actually exists. Even the official statistics demonstrate the futility of the "recovery" narrative.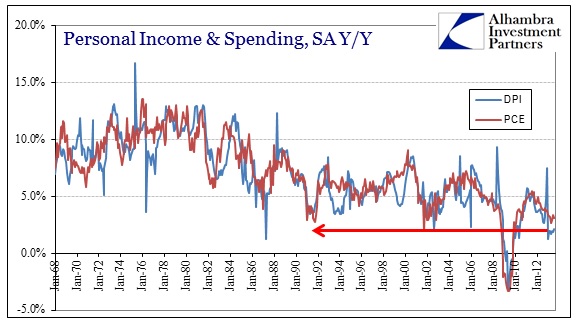 Wage growth is as bad as it has been at any point in the past five decades. Lack of wages, without some kind of artificial monetary filler, will eventually drag spending lower before (already?) eroding the rest of the economic foundation completely.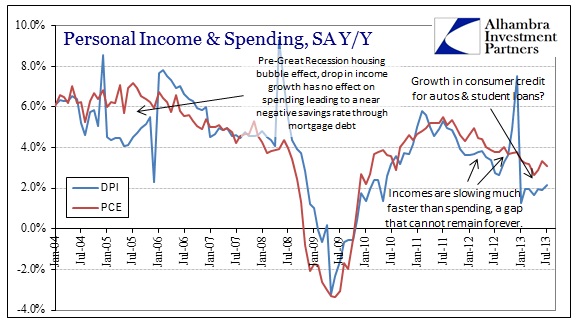 I don't think there is much doubt that the growing gap between income and spending is being counted as monetary policy "success", owing largely to the federal government's takeover of student loans and the renewed risk acceptance in automobile financing. Outside of those artificial fillers, most households are reaching deep into their pockets to avoid cutting back after steadily reducing their discretionary spending for the past five years.
Income growth is the primary negative factor pulling the full economy lower. Even if the economy is fully bifurcated, with upper incomes effusively enjoying the benefits of asset inflation, there is nothing that can bridge the gap and bring the economy to real recovery absent true job growth (outside of statistical ruminations). In 2013, wages and disposable income are really as bad as the Great Recession, a comparison that unfortunately continues to appear in a broad spectrum of economic accounts.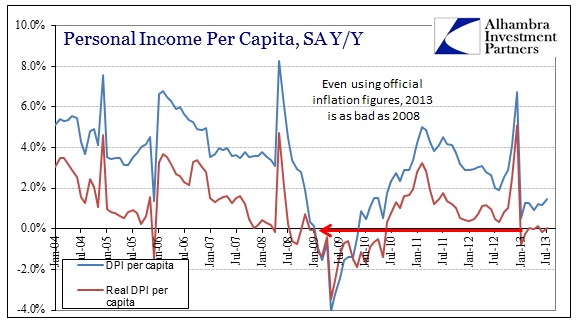 Unlike some GDP measures, however, official inflation deflators in the income space leave no ambiguity – even on a "real" basis income growth is recessionary at this point.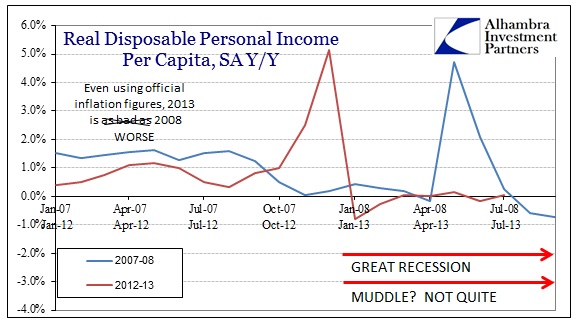 The only place official inflation seems to be so dissociative is in the GDP accounts, excepting the production side. Despite the positive spin provided by GDP measurements, the minimum wage protest is just one more confirmation that the GDP measure of the economy doesn't quite add up.
Click here to sign up for our free weekly e-newsletter.
"Wealth preservation and accumulation through thoughtful investing."
For information on Alhambra Investment Partners' money management services and global portfolio approach to capital preservation, contact us at: jhudak@alhambrapartners.com or 561-686-6844 . You can also book an appointment for a free, no-obligation consultation using our contact form.