A Closer Look: Commodities
The GSCI Commodity Index ((GSG)) consists primarily of Energy, but also contains Agriculture, Industrial Metals, Livestock, and Precious Metals. The index broke out to the upside in the beginning of February and hasn't looked back since. The index moved above both its 50-day and 200-day moving averages and held support at the 32.75 level. Prospects look promising in the near future, especially with the Ukranian crisis escalating from a regional impasse to a global stare-down. GSG is up 2.49% year-to-date.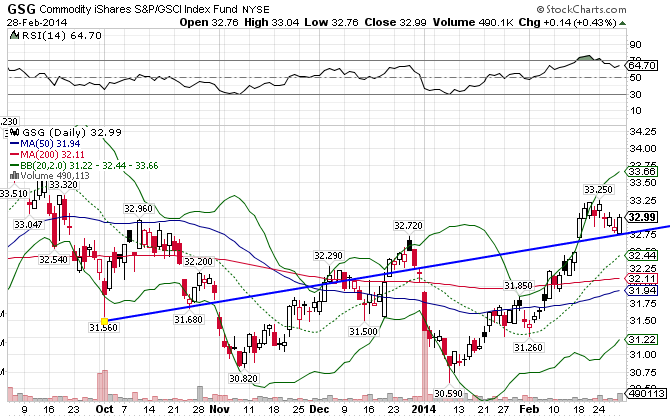 The Dow Jones-AIG Energy Index (JJE) consists of Natural Gas, Crude Oil, Heating Oil, and Unleaded Gas. Since the beginning of November, the index has been on a tear, breaking resistance through both moving averages. The 198 level now has become support. The index is up 5.59% for the year.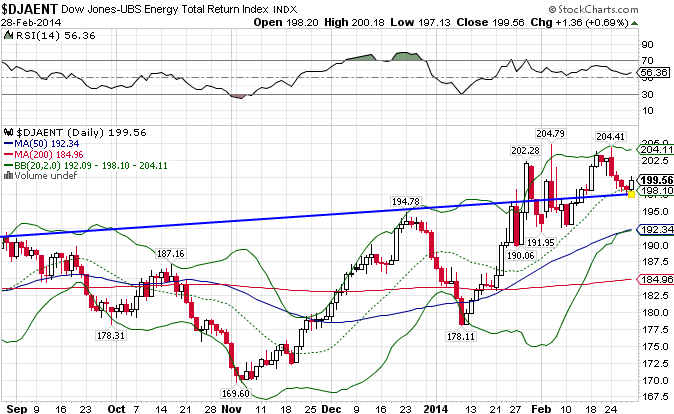 The DJ-AIG Grains Total Return Index ((JJG)) consists of Corn, Wheat, and Soybeans. The index was a spectacular performer in 2012. Things were bleak in 2013 though, as the index lost its gains plus more. As for 2014, it has come roaring back, blowing through both moving averages in the last month alone. Holding support at the 110 and 117 level is key to keep this run going. The index is up 8.42% so far in 2014.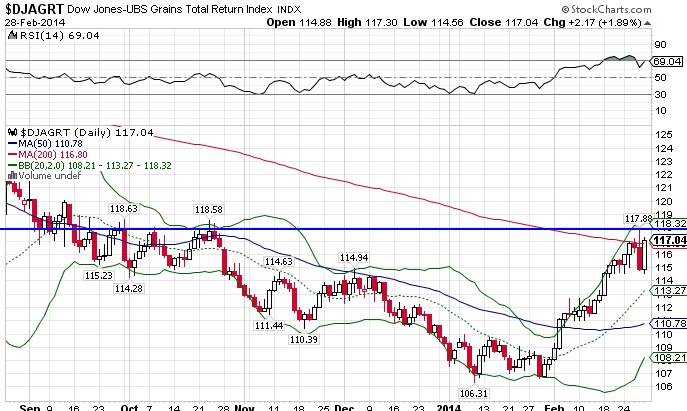 The DJ- AIG Industrial Metals Total Return Index ((JJM)) includes Aluminum, Copper, Nickel, and Zinc. The index is in the process of forming a bottom. It currently resides just below its MAs and just above strong support at the 259 level. JJM was one of the hardest hit by the weakening global picture in 2013, but it looks like its ready to reverse that trend this year. JJM is down 3.71% YTD.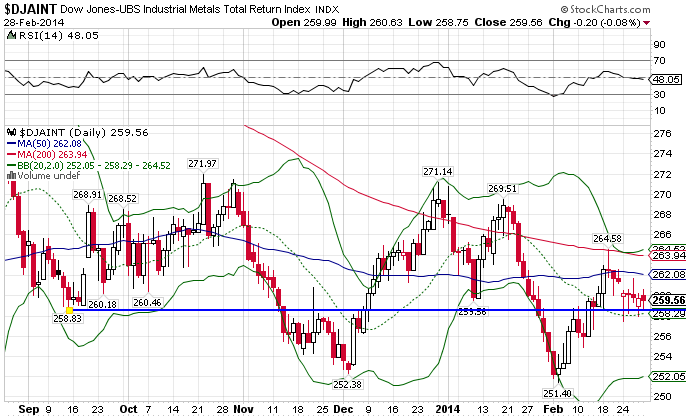 The DJ-AIG Precious Metals Index ((JJP)) includes Gold and Silver. It seems that the index may have finally reached a bottom at the 350 level after a volatile and tough 2013. In the last two weeks, it has managed to break through resistance at the 200-day MA,  setting up support at the 384 level. JJP is the second best performer of 2014 to date, up 9.90%.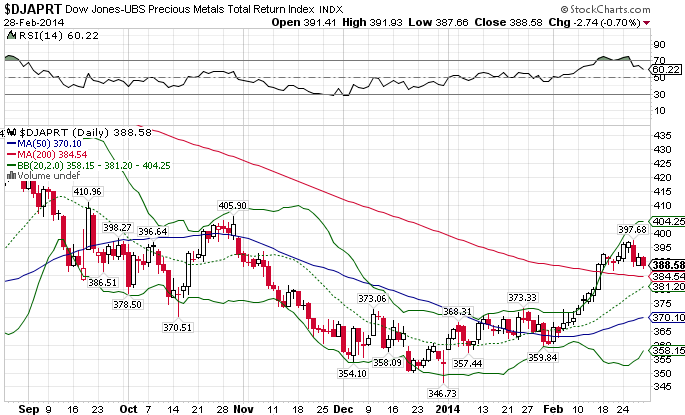 The DJ-AIG Softs Index ((JJS)) includes Coffee, Cotton, and Sugar. JJS has been on an absolute tear since the beginning of February, up over 25%. It was one of the hardest hit commodity markets before a Brazilian drought brought about worries over sugar and coffee crop damage to the top grower of both commodities. The index is up 20.48% YTD.