Rational Auto Theory
JD Power and LMC Automotive were expecting total new vehicle sales to rise 2.4% year-over-year in March, a small turnaround of sorts for the way auto sales have gone so far in 2017. Both new retail auto sales as well as overall sales were slightly negative January and February, so any positive number would be a welcome change. Given the importance of the motor vehicle sector in US and global industry as well as how it might reflect the state of consumers, those seeking "reflation" were counting on at least one "hard" number going their way.
Of the reported auto sales released today by the manufacturers, however, it doesn't seem like consumers cooperated much last month. Ford Motor reported -7.2% sales, a little better than Edmunds.com and Kelley Blue Book forecasts. The highly negative sales were surely a result of Ford being far more cautious on incentives where other manufacturers were not. FCA (Fiat Chrysler) wasn't quite as stingy as Ford but also nowhere near as aggressive as GM. Still, FCA sales were well below estimates, declining 4.6% in March compared to expectations for +2.7% from Edmunds.com and +2.8% for Kelley Blue Book. General Motors and their incentive strategy worked as far as keeping sales positive, but far, far less than anticipated: +1.6% actual; +9.6% Edmunds.com; +9.1% KBB.
Foreign automakers reported no better results overall, leaving the auto sales "plateau" seemingly intact. But it should not be lost in how these disappointing sales results for what was supposed to be a relatively good month were achieved, and the backdrop against which the incentive structure is currently being deployed:
"If you only look at the sales numbers, it could be tempting to say that the industry is just as strong as it was a year ago," said Jessica Caldwell, Edmunds executive director of industry analysis. "But there are several areas of concern this year lurking just below the surface. Inventories have reached levels not seen in more than a decade, and incentives are rising. We're also seeing an increase in loan terms and indications of a rise in subprime lending, which demonstrate sales aren't coming as easily as they used to." [emphasis added]
Though the full monthly estimates haven't been tallied yet, TrueCar subsidiary ALG figured that incentives in March rose by 13.4% to an average of $3,511, and that increase was against a month (March 2016) already comparatively heavy in discounts. The fact that sales refuse to rise and that consumers appear to be instead only that much more exhausted places carmakers in a serious potential bind. It isn't a straight contraction as you might expect in and around recession, but it is also clear that manufacturers were expecting at some point a return to growth (thus the inventory).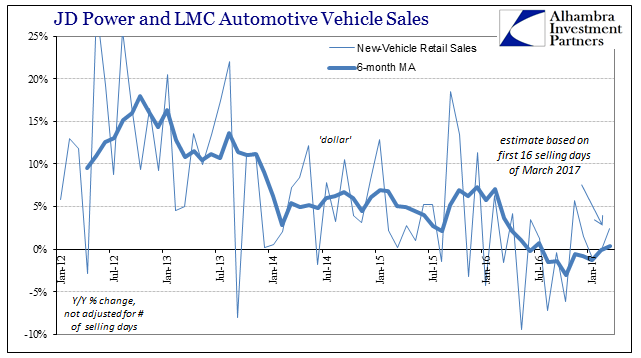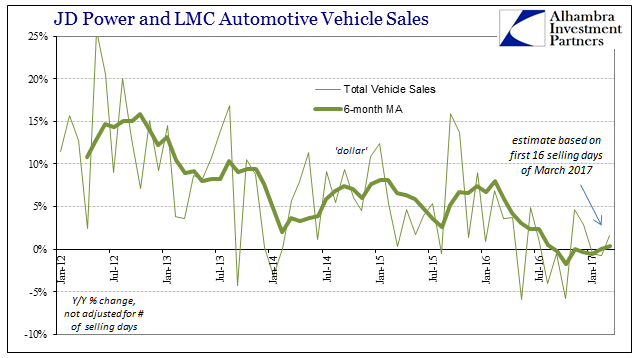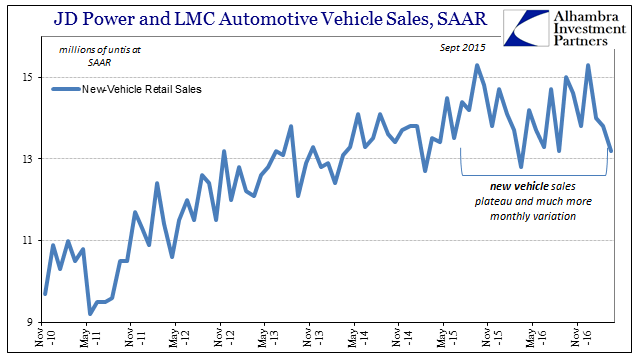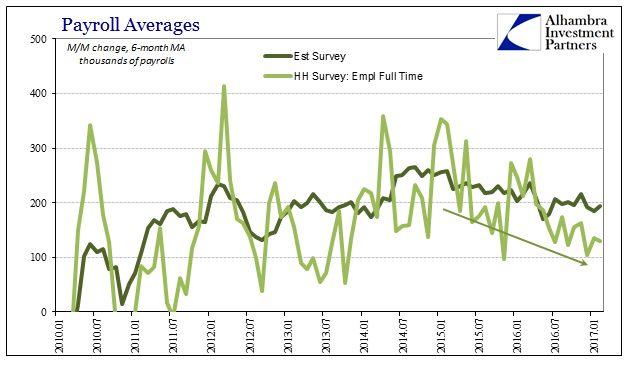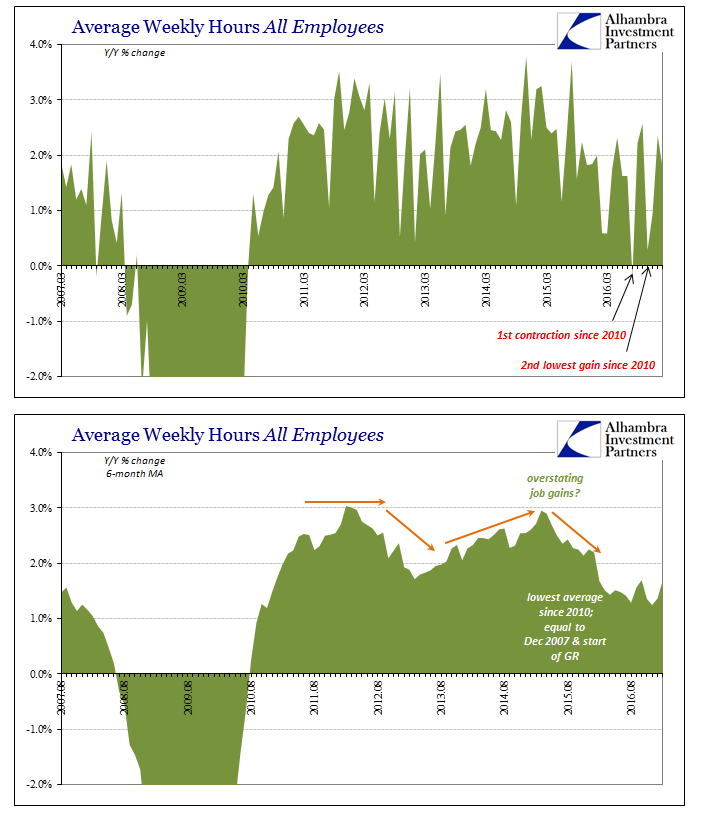 The motor vehicle segment had been one of the rare bright spots in this otherwise chronically moribund economy. Because of that, there are a few very important implications to be drawn from the "plateau." The first is obvious, where one of the few actually strong parts (as opposed to the media claiming everything was "strong" no matter at what rate or comparison) of the system might now fall under strain. That would suggest bad news for the current state of "reflation", meaning that any positive momentum there might otherwise be in comparison to the economy of early last year is likely to be significantly less without the benefit of a rising auto sector.
The second implication is more theoretical, relating longer term to monetary policy and econometrics. As noted earlier today, rational expectations theory plays an enormous role in evaluating potential policy effects especially through inflation. The short version as it relates to economic activity is rising inflation expectations cause economic agents to act on them before inflation actually rises. That leads to a burst of economic activity which in the end actually produces the rising inflation through widespread, broad-based activity. Therefore, in the short or possibly intermediate terms, credible monetary policy is supposed to "stimulate" action. The basis for this theory is, as noted earlier, lessons drawn from the 1970's where this behavior was actually observed.
It isn't clear what drove auto sales up from the depths of the Great "Recession", but if we assume anyway that it was all inflation expectations due to the QE's then mainstream economic theory still has a big problem. The idea of rising spending in anticipation of inflation is not supposed to be for the sake of inflation alone, nor is it meant to be so narrowly construed. In other words, better fortunes for the auto sector are fully expected to spillover elsewhere if not everywhere else. So even if we assume that autos benefited immensely from monetary policy during the past seven years we still can't find any success in it.
It's the monetary equivalent of "trickle down", where borrowing and debt-based activity is the "pump priming" to overcome hysteresis; a serious push in the positive direction that gets the whole economic engine started.
In truth, it is much more likely that if QE did contribute to rising auto sales it was more so in the relative "easing" of financial considerations (through, ironically, liquidity expectations rather than actual "dollar" liquidity) rather than inflation expectations, particularly the trend heavily toward leasing as well as subprime auto loans. Whatever ultimately the cause, the full economy was never "stimulated" even for the tremendous marginal boost from autos.
The only positive aspect for the theory anyway, might be the sales "plateau" that not coincidentally traces back (in a lot of other data for autos as well as general economy globally) to the eruption of "global turmoil" in the late summer of 2015. Consumers just might behave somewhat rationally after all, as those who might have believed a big ticket purchase under favorable debt terms was relatively less risky so long as those same consumers believed monetary policy might work at some point at least in the future. The effect of "global turmoil" here might have been the same as in various financial markets, a realization that monetary policy didn't actually work and therefore wouldn't at any point in the future.
The sudden and abrupt caution expressed by consumers at that point would be consistent with rational caution and uncertainty about these very prospects. Given the stubbornness of consumers now as it relates to autos despite "reflation" all over the mainstream, it just may be that they have over the past few years started to agree with the bond market view of the economy after 2013.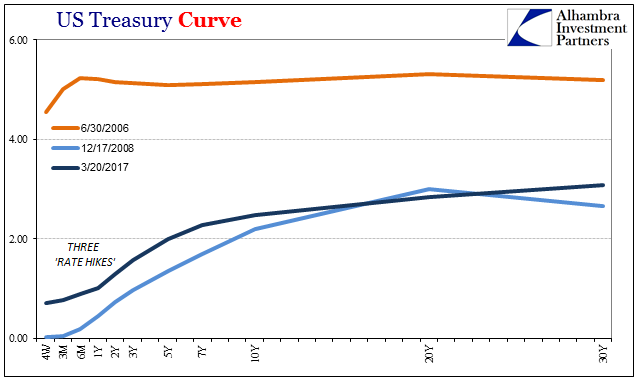 It isn't recession but far worse; another angle by which the vise of depression slowly but persistently squeezes the avenue for what little opportunity might still remain in this economy. If the auto sector goes, what truly is left as a basis for something actually different in the positive direction? It actually adds to further hysteresis weight for whatever might come next, including all those Trump policies that were supposed to at least be defined by now. In other words, if consumers who splurged for years under central banking have now come to view it more skeptically, they will in all probability evaluate future prospects from here on under the same uncertainty.