Fourth Order 'Rising Dollar' Effects Hit 2017
Total construction spending fell considerably in June 2017, according to Census Bureau estimates released yesterday. Seasonally-adjusted, layouts for new construction declined by 1.3% from May. That's the second time in the last three months there was such a large drop. Year-over-year (unadjusted), total spending grew by just 1.2%, the lowest rate of expansion since November 2011 (subject to revisions, which in this series can be significant).
Private construction spending was not the reason for the weakness. Though spending on neither residential nor non-residential construction was robust, growth rates on this side of the economy at least remain fairly positive if at the lower end of the cycle. Private outlays were (unadjusted) $84.2 billion in June, 5.2% above levels recorded in the same month a year earlier.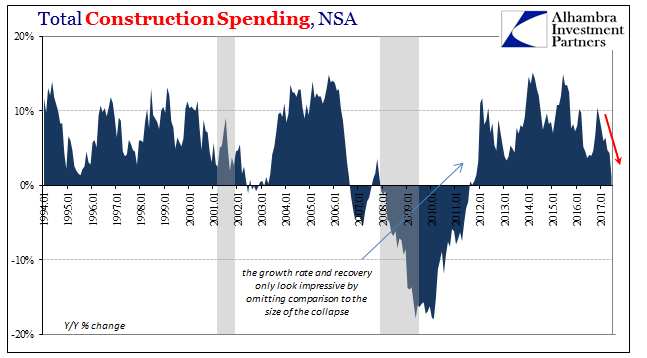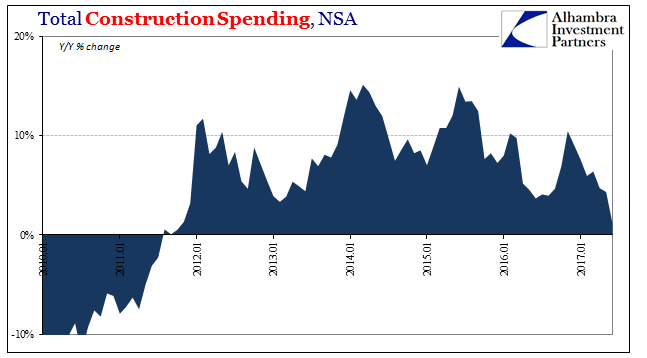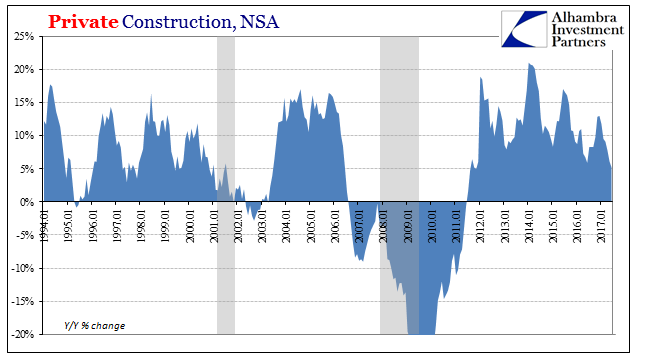 The primary drag within this economic sector is on the public side, and it has been that way for two years now. June spending fell 5.2% from the month before, after contracting by nearly 5% month-over-month in April (from March). Public construction was down 8% for Q2 2017 as a whole from Q1.
Public levels of construction spending peaked in a mini-rebound from the post-Great "Recession" lows in June 2015. That was, unsurprisingly, coincident to the appearance of "global turmoil" just after the initial phase of the "rising dollar." As of the latest estimate, public outlays are more than 12% below that peak.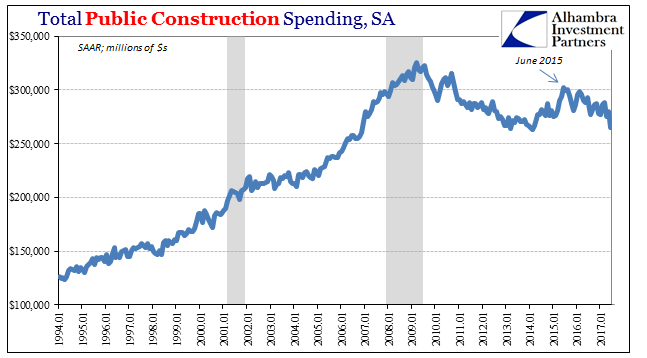 But why should primarily state and local governments care about what was at the time characterized as overseas "global turmoil?" It is the municipal levels of government who carry out most of the public sector construction projects. Thus, there seems to be something missing for why they would react harshly to Chinese currency "devaluation" and other similar foreign disruptions.
What we are seeing here are fourth (or third depending on your definitions) order economic effects. The primary issue wasn't really overseas but "dollars" (first order). That caused a seriously underestimated (though that is being rectified slowly by revisions) downturn in the global macro economy including the US. As a result, incomes were greatly and negatively affected by it (second), which then reduced either outright or the growth rates of state and local tax collections (third; construction spending, fourth).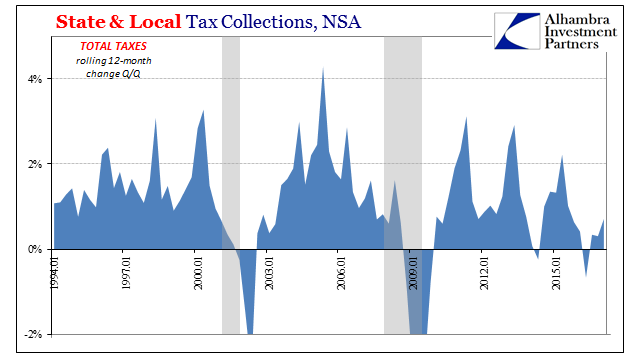 According to the Census Bureau, state and local governments collected $941 billion in taxes (I refuse to categorize it as revenue as has become common convention) in the twelve months ending in March 2017. That was just 0.7% more than in the twelve months ending in December 2016.
Individual income tax receipts were positive again in Q1 (on a rolling 12-month basis) after falling to little growth and even a quarterly contraction last year. That fits very well the revised estimates for national income also released yesterday. The BEA now figures there was very little income growth during and after the downturn, which is reflected in state income tax collections data gathered by the Census Bureau.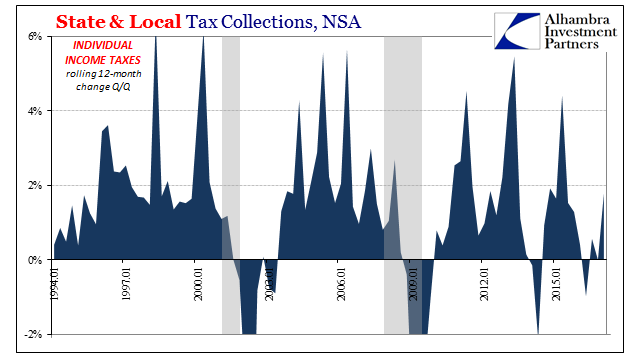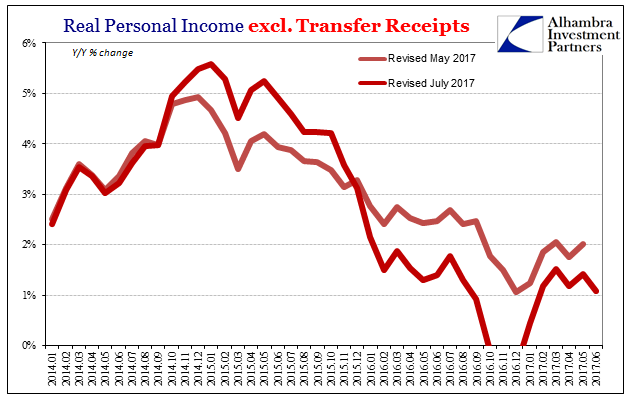 Though it is a much smaller proportion on the municipal level, mostly for state capitols, it has been corporate net income taxes that are at the margins testing government budgets. There are very real consequences to lack of corporate revenue growth and then contraction in earnings. In Q1 2017, the Census Bureau estimates corporate tax receipts were down 27% from Q1 2016, and more than 6% on a rolling 12-month basis. That was the worst quarter (by far) for this tax segment since 2010.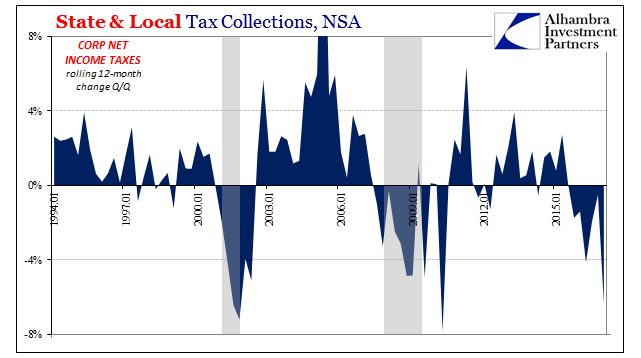 Even the more dependable and solid tax base especially for local governments hasn't emerged unscathed from the near-recession. Made up of mostly property and excise taxes, these "other" government collections have also slowed since the middle of 2015, even going so far as to also contract (on a rolling 12-month basis) in Q2 2016.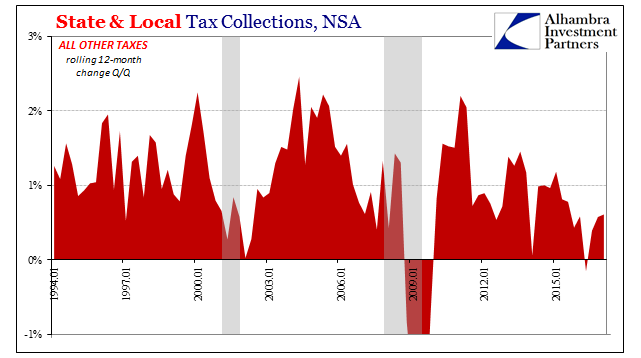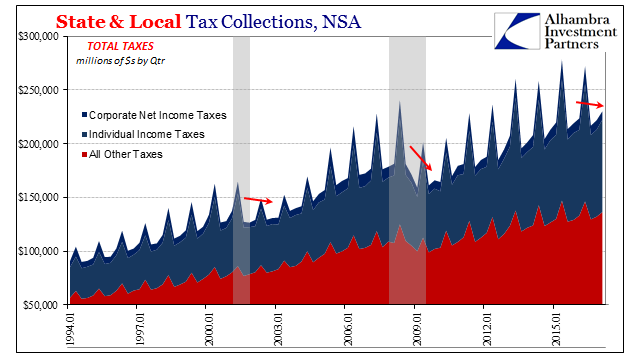 It may not have been a "rising dollar" recession, but as with income and now taxes and construction it appears to have been close to (a mild) one. The problem with it is that unlike historical business cycles, including past near-recessions like 1998 and 1986, there hasn't been symmetry on the upside. Instead, weakness lingers on and on so that once a particular sector like construction (or autos) that was doing well before joins the overflowing ranks of sectors faring poorly. It ends up with each of these downturns producing a ratchet effect, leaving the possible macro upside less and less for each.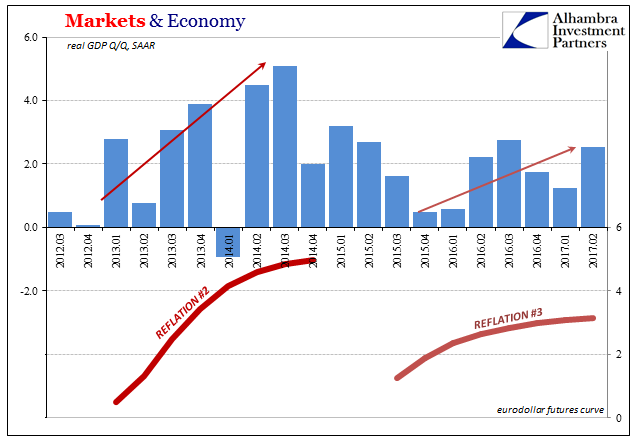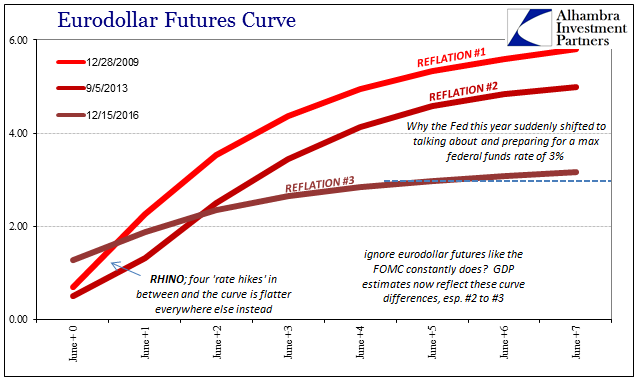 It is the market lesson of curves being acted out in real world ways of first through fourth order effects, "dollars" to economy to taxes to what Keynesians describe wrongly as "austerity."