The Fortress Portfolio is Alhambra's original asset allocation strategy developed at the turn of the century. You can read the story of how and why the Fortress Portfolio was developed here. It is a passive portfolio utilizing multiple asset classes:
Large Cap Stocks – S&P 500 Index

Small Cap Value Stocks – Russell 2000 Value Index

Real Estate – DJ REIT Index

Commodities – S&P GSCI Index

Bonds – 3-7 Year Treasuries Index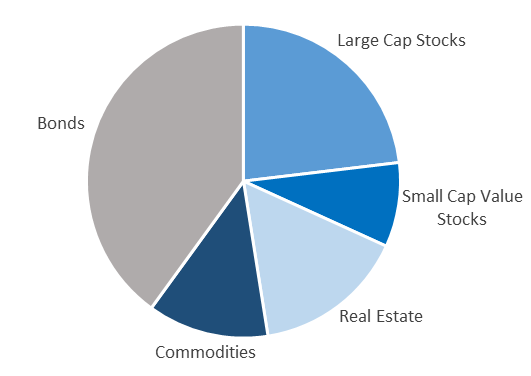 We have constructed 5 versions of this portfolio, based on risk tolerance:
Portfolio Performace Statistics 
Annual Returns
Since 1972, this strategic allocation has only suffered four down years: 1974,1994, 2008 and 2015. 
The portfolio is implemented using ETFs: