The Fortress Portfolio is Alhambra's original asset allocation strategy developed at the turn of the century. You can read the story of how and why the Fortress Portfolio was developed here.
Minimum investment of just $25,000

Low cost: 0.40% annual management fee

A strategic, passive investment portfolio of ETFs

Superior, multiple asset class approach produces consistent returns

Low volatility compared to stock/bond only allocations

Allocation to real assets to protect purchasing power

Validated by 45 years of performance research analysis
The Fortress portfolio functions well as a core strategy for cost conscious investors. Multiple risk based versions are available to fit your profile. For investors who prefer a goals-based approach, the Fortress is a good choice for long term, high priority objectives.
Additional benefits of having an Alhambra account:
Orion client portal includes:

Exclusive client only research

Performance tracking

Asset allocation tracking

Ability to aggregate and track non-Alhambra accounts

Text alerts relevant to your account

Dedicated Alhambra contact person

Periodic access to Joe Calhoun, Jeff Snider and Margie Fernandez

Special client events
Have an account at TD Ameritrade, Charles Schwab, or Fidelity?
We can manage your current investment account using an "Add Advisor" form for one of these custodians. No need for new account paperwork. It's as simple and seamless as it can be.
Portfolio Asset Classes
The Fortress Portfolio is a passive portfolio utilizing multiple asset classes:
Large Cap Stocks

Small Cap Stocks

Real Estate

Commodities

Bonds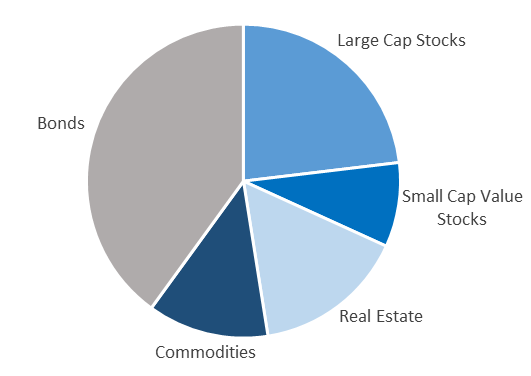 We have constructed 5 versions of this portfolio, based on risk tolerance:


Portfolio Performance Statistics
Original US Version:
Global Version:
International Version:
Annual Returns (Moderate US Version):


Since 1972, this strategic allocation has only suffered four down years: 1974,1994, 2008 and 2015.


Portfolio Implementation
The three versions of the Fortress Portfolio are implemented using ETFs.
Original US Version:
Global Version:
International Version: